---
---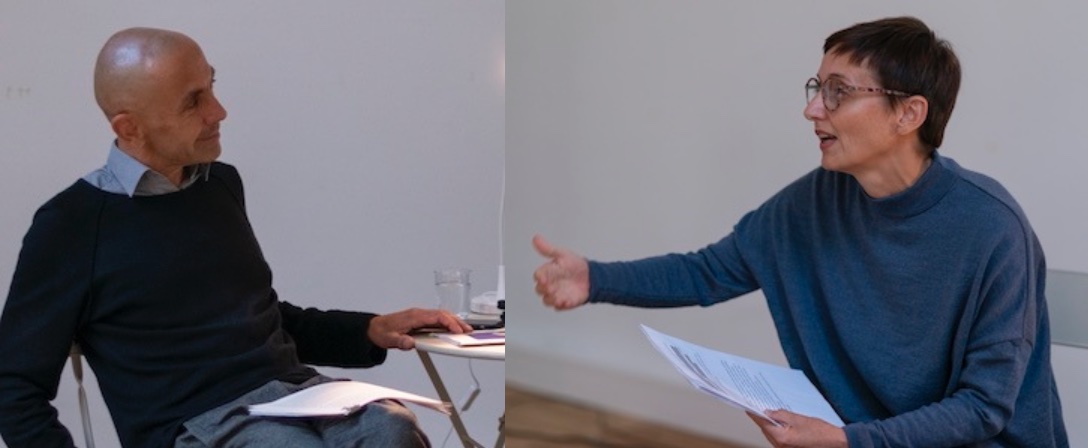 Thresholds all. This is the hinge, the pivot, the radical one-ness (from radix, the Latin root; here also routed) that is the meeting of the two. It is present in everything they have crafted, explicitly or not. This is work as potential. A threshold is a pause offered as a gift of what is possible.
Gareth Evans, Whitechapel Gallery
---
Zentrum Fokus Forschung
University of Applied Arts
Rustenschacherallee 2-4
1020 Vienna, Austria
Anderwald + Grond GnbR
Schüttelstr. 21/14,
1020 Vienna - Austria
contact@anderwald-grond.at
anderwald-grond.at
ATU 67347249
RUTH ANDERWALD + LEONHARD GROND are visual artists, artist-curators, artist-researchers, and professors for the PhD programme (PhD in Art) at the University of Applied Arts, Vienna.

From 2019 to 2021, they initiated and conducted the intergenerational arts-based research project
ART WORKS! European Culture of Resistance and Liberation
(Erasmus+), involving youngsters, educators, artist-researchers, and artists, in cooperation with Foundation wannseeFORUM Berlin, Museion Bozen, Melk Memorial, MSU Museum of Contemporary Art Zagreb, HKW Haus der Kulturen der Welt Berlin and Foundation Between Bridges.
Art Works! European Culture of Resistance and Liberation
was chosen by the European Commission as a best practice model in response to the COVID-19 Crisis and has received the Honorable Prize by the
Comité International de Mauthausen
as part of the
Hans Maršálek Award.
Following their focus on remembrance culture and the transformation of memory, they developed the artistic research
The Construction Site of Remembrance
that accompanies the renewal of the Austrian Exhibition and the restoration process of Block 17 at Memorial and Museum Auschwitz-Birkenau (2018-2021) in cooperation with the curatorial team.
Since May 2020, Ruth and Leonhard have been working at the Institute Zentrum Fokus Forschung (ZFF), University of Applied Arts Vienna, on their FWF-PEEK project
Navigating Dizziness Together
, the follow-up FWF-PEEK project of the
Dizziness–A Resource (2014-1017)
, that they have also initiated and led. In this long-term arts-based research, 'dizziness' is understood as an existential state of uncertainty, disorientation and instability. The recent artistic research introduces national and international cooperations, i.a., the
Platform of Somatics for Architecture and Landscape
, San Pablo C.E.U University, Madrid, as well as Westminster University London, Centre Pompidou Paris, Whitechapel Gallery London, Spector Books, Leipzig, or gabarage upcycling design.
Since 2012, Ruth and Leonhard have organised the association
HASENHERZ or the Pleasures of Moving Images and Words
, which hosts a nomadic screening- and discussion series based on Arnold Schönberg's
Verein für musikalische Privataufführung
. The
HASENHERZ
series has been featured at Brücke Museum Berlin, Night of Philosophy Tel Aviv, Kunsthalle Wien, Whitechapel Gallery London, Videonale Bonn, European Forum Alpbach, Austrian Film Festival Diagonale'17, i.a.
In the context of dizziness, they curated
What Would Seeing Be Without Us?
mumok cinema (2014), Vienna;
Navigating the Unknown – Fears and Pleasures of Dizziness
, CCA-Center for Contemporary Art, Tel Aviv (2016). Furthermore, in cooperation with Katrin Bucher Trantow, they conceived an exhibition series around dizziness shown at Kunsthaus Graz (2017) and U-jazdowski Castle Center for Contemporary Art, Warsaw (2017-18) with a framework program of film screenings and two interdisciplinary symposia. Moreover, they created an art competition tied to a transdisciplinary study on the dizziness of the artistic process with Kunsthaus Graz and the department of Differential Psychology, Karl-Franzens-University Graz.
Their work has been exhibited internationally, e.g., at Centre Pompidou, Paris, Himalayas Art Museum, Shanghai, Tate Modern, London, Whitechapel Gallery, London, wien modern Festival, Museum of Applied Arts, Vienna; Herzliya Museum of Contemporary Art; museum in progress, Vienna, or ÉCAL Lausanne.